Fastest way out of credit card debt: Practical Tips and Strategies
Introduction:
Credit card debt can feel like a financial anchor, dragging you down with high-interest rates and mounting bills. The good news is that you don't have to be stuck in this cycle forever. In this article, we'll explore practical strategies to help you find a solution on how get rid of credit card debt fast. By following these steps and taking control of your financial situation, you can start your journey to a debt-free future.
Understanding Credit Card Debt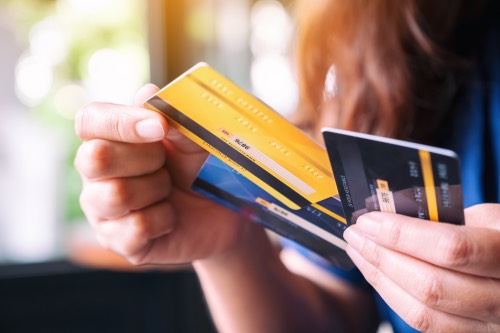 Before diving into solutions, it's crucial to understand the nature of credit card debt. Credit cards can be convenient, but they often come with high-interest rates, making it easy for debt to accumulate. Minimum payments can barely scratch the surface, and if you're not careful, your debt can spiral out of control. If you pay the minimum payment (£119) on an £4500 credit card at a rate of 21.9% it will take 31 years and 4 months to pay it off!
Why Does it take so long to pay off?
When paying the minimum payment of a credit card, using the example above of a £4500 card, the minimum payment of £119 decreases each month as the balance reduces This means you'll be in debt for longer. But if you were to set your payment to a fixed monthly payment of £119 for the remainder of the term, then you would pay it off in 5 years and 1 month!
Assess Your Debt Situation
The first step in your journey to debt freedom is to assess your current debt situation. Gather all your credit card statements and bills. Calculate the total debt owed and the interest rates for each card. Create a detailed debt inventory to understand the full scope of your financial challenge.
Create a Realistic Budget
A well-structured budget is your best friend in managing debt. Start by tracking your monthly income and expenses. Identify areas where you can cut unnecessary spending. Allocate as much of your income as possible to debt repayment while still covering essential expenses.
Prioritize High-Interest Debts
Two popular strategies for paying off debt are the debt avalanche and debt snowball methods. The debt avalanche focuses on paying off high-interest debts first, while the debt snowball method prioritizes paying off the smallest debts first. Choose the method that aligns with your financial goals and current financial situation.
Negotiate Lower Interest Rates
Don't be afraid to contact your credit card companies and negotiate lower interest rates. Explain your financial situation, emphasize your commitment to repayment, and inquire about any available hardship programs. A good payment history can strengthen your negotiation position.
Increase Your Income
Boosting your income can expedite your journey to debt freedom. Consider part-time work, freelancing, or selling unused items to generate additional funds. Use this extra income to accelerate your debt repayment efforts.
Seek Professional Help
If your debt situation is particularly challenging, consider seeking professional assistance. A debt advice service can help you create a manageable repayment plan. You can ask for a free debt consultation here. A debt specialist will talk you through all your options. You may be able to reduce your payments to what's affordable to you and write off any debt that's unaffordable.
Stay Motivated and Persistent
Getting out of debt isn't easy, but staying motivated is crucial. Set realistic goals and celebrate small victories along the way. Seek support from friends, family, or online communities of people on similar journeys.
Conclusion:
Getting out of credit card debt fast is achievable with determination and a well-thought-out plan. By understanding your debt, creating a budget, prioritizing debts, negotiating lower interest rates, increasing your income, and seeking professional debt help when needed, you can regain control of your finances. Remember that persistence and motivation are key to your success. Start taking steps today, and you'll be on your way to a debt-free future.
Final Thoughts:
This article provides a roadmap to get rid of credit card debt fast, but remember that it's a journey that requires commitment and discipline. Tailor these strategies to your unique situation and stay the course. Over time, your debt will shrink, and your financial freedom will grow.

Andrew Stanley
Managing Director
Andrew Stanley has worked in the finance industry for over 10 years running loan brokering companies. After seeing so many people struggling with debt, decided to Start Debt Lifeline to help people get out of debt as quickly as possible.
How can i get help with my credit card debt? Are you looking for how to get help with credit card debt? Credit cards minimum monthly payment can lead to credit card debt taking a lot longer to pay off than anyone would imagine. For example, if you owe £8,000 on a...