How can i get help with my credit card debt?
Are you looking for how to get help with credit card debt? Credit cards minimum monthly payment can lead to credit card debt taking a lot longer to pay off than anyone would imagine. For example, if you owe £8,000 on a credit card with an APR of 18.8%, (a pretty average amount) and you are struggling financially, you will probably opt to pay the minimum payment, usually around 2.5% of the balance (£200). If you end up in this situation, this £8,000 debt will take 33 years and 1 month to pay off and cost £10,446 in interest, total payable will be £18,446. Yes, you did read that right it's going to take 33 years and 1 month to pay off an £8,000 debt!!!
What if you can't afford to pay your current card debts?
This is a situation many people are finding themselves in currently. You may have been able to pay your current financial commitments a few years ago, but now with the cost of living crisis you find yourself pushed beyond breaking point. Gas bills, electricity bills, food bills, rent going up or if you own your own house mortgage payments going up or about to if you're coming off a fixed rate deal onto the new interest rates of today.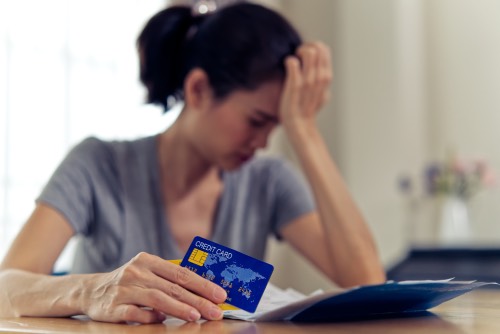 This has put unprecedented financial pressure of a lot of the UK population. Using more credit to pay off current credit is not advisable and will put you into a downward debt spiral that is hard to get out of. If you can't afford your current credit payments this means you're basically insolvent and should seek debt advice as soon as possible.
If you currently can't afford to pay your current bills then it's unlikely you'll be able to get a new credit card, let alone a 0% balance transfer one we speak about at the bottom of the page as you will fail the affordability checks. Don't worry though there is debt help available and most of the methods we speak about below are actual Government legislation to help people get out of debt.
Using a Debt Management plan (DMP)
With a debt management plan you get a debt specialist to negotiate a lower monthly payment with your creditors, in most cases they can also negotiate with your creditors to pause all interest. Its flexible and not a legally binding solution that you have to stick to. So, if your financial situation improves or even gets worse you can adjust the monthly payments up and down to suit your current situation.
None of the debt is written off and you still have to pay the full balance, but with the interest removed it will be a lot quicker even with reduced payments. But you only have to make 1 payment to the debt management company and they deal with your creditors for you and distribute the payments for you. They also stop your creditors harassing you with demanding tactics by phone, text, email and letter, which if you've currently missed any payments can relieve a lot of stress and worry.
Let's say you have 3 creditors, 2 personal loans and a credit card totalling £18000, with the card being £8000 of the total. Your actual payments you should be paying are £500 a month, but you only have £240 a month left at the end of the month to pay your bills, meaning you have a shortfall of £260 a month. The amount you have to pay your creditors is split evenly on a pro rata basis depending on how much you owe to each company.
Savings Calculation
A Debt management plan costs around £38 a month to set up and for them to deal with your creditors and payments on an ongoing basis, meaning you have £202 a month left over to distribute between your 3 creditors. As we are talking about your credit card debt in this article that's what we will focus on. £8000 of your total £18000 debt as a percentage is 44.44%, meaning that 44.44% of your £202 you have to pay your creditors goes towards the credit card debt. This is £89.76. This means it will take you 89 months (just under 7.5 years) to pay off your £8000 credit card.
So even though your payments have more than halved you are paying your card off 25 and a half years earlier and save £10446 in interest!
If you have less than £240 a month to pay your creditors, for example £100, you can still get a DMP, the whole point of a debt solution is to make your payments affordable for you for your current situation and not to put you under any unnecessary financial stress.
Use an Individual Voluntary Arrangement (IVA)
You can use an IVA if you can afford to pay some of your debt back but not necessarily the full amount your creditors are expecting. To be considered for an IVA You need at least £85 a month left over at the end of the month after all your essential living expenses are taken into account and you need at least 2 creditors. Each line of credit is counted as a creditor, so for example if you have a credit card and a personal loan with Barclays, even though they are with the same company they are counted as separate lines of credit for this purpose.
All interest is frozen, you only make 1 payment to your IVA practitioner and your creditors are not allowed to contact you.
Your spare income will be worked out by an IVA practitioner taking into account your essential living expenses, this amount will then be put forward to your creditors by the IVA practitioner for them to agree to. If accepted your monthly amount is then split between your creditors like the above DMP example. This lasts for 5 years (6 years in some cases) and as long as you keep up your monthly payments, any remaining debt left over is legally written off.
Savings Calculation
So if we take the above calculations of £240 a month left over, you would pay £89.76 towards your £8000 credit card for 5 years meaning you pay a total of £5385.60, then the rest of the balance is written off. You save £2614.40 on your actual debt and £10446 in interest and become debt free 28 years quicker than paying the minimum payment we discussed at the start of the article!
If you have less disposable income than above, for example If you only have £85 a month left over a the end of the month then it's exactly the same situation, you pay £85 A month that's split between your creditors for 5 years, then the remaining debt is written off. The only difference is that you have paid less a month and written off a larger % by the end of the plan.
Unlike a DMP an IVA is legally binding, if you miss any payments the plan will fail and your creditors can petition to make you bankrupt. An IVA does have a bit of flexibility on monthly amounts built in so if your living costs go up you can contact your IVA practitioner to get them to negotiate a lower monthly amount to help you not miss a payment.
That can also go the other way if your financial situation improves, you may be asked to pay more a month towards your debt if you get a new higher paid job or big raise at your current employment.
Use a Debt Relief Order (DRO)
A Debt Relief Order is an option for people that have less than £75 a month to put towards their debts after their essential living expenses are taken into consideration. With a DRO interest is frozen and you stop paying your creditors. After 12 months the entire debt is written off. Sounds great doesn't it? Well yes if you meet the strict criteria on who can get a DRO and its not available for homeowners.
You should be able to apply for a DRO if you meet the following criteria
You don't own a vehicle worth over £2000 (you can only include 1 vehicle)

You don't own your own home

You owe less than £30,000 in total to all your creditors.

You have less than £75 a month left over after all your living expenses have been taken into consideration.

You have lived or worked in England or Wales for the past 3 years (DRO not available in Scotland)

You don't have savings of more than £2000

You don't have assets worth more than £2000 (E.G motorcycle, boat, art, jewellery)

You aren't currently also applying for another formal insolvency procedure like an IVA or Bankruptcy
A DRO needs to be completed by a debt specialist. It cost £90 to apply for, but if you can't afford that then you may be able to get financial help from certain charities, speak to your debt specialist about it who will be able to point you in the right direct to apply for help.
Savings Calculation
If you are successful with a DRO, then talking about the £8000 credit card, you save the £8000 debt and the £10446 interest, so £18446 and you'll be debt free in 12 months!
Use Bankruptcy
Bankruptcy may sound scary to most, and it should only be explored once all the above debt solutions have been tried, but it can be a lifeline for people in the position where all other debt solutions are not possible. You need to owe £5000 or more to be considered for bankruptcy.
All your assets are added up and sold and the proceeds are split between your creditors. If you earn enough and have a lot of disposable income you may be asked to pay a monthly contribution for 12 months during your bankruptcy. On the positive side, you're your interest is frozen, most court action is stopped, your creditors can no longer contact you and after 12 months the rest of your debts are written off and you can start again.
Bankruptcy has an application fee of £130 and a bankruptcy deposit of £550
Savings Calculation
Due to the nature of bankruptcy and it being dependant on what assets you have we can't really do a calculation on how much it will save you, it depends what assets you have and how much they sell for. If you are completely broke and have no assets of value, then you will save the £8000 initial balance and the £10,446 interest and be debt free 22 years earlier than paying the minimum payments.
Debt Advice
If you are struggling with credit card debt and/or other debts you can get free initial advice on the 4 debt solutions mentioned above here, we offer a fully advised service on all debt solutions to make sure you are the correct plan for your current financial circumstances.
What if you can still afford to pay your cards but are struggling due to the minimum payment?
Here are two solutions that will help you pay off your cards more than 25 years faster and save you £1000's in interest!!!
Use 0% balance transfer credit cards to clear card debt
If your credit history is still fairly intact, you could search for 0% balance transfer credit cards, you can transfer the balance of your high interest card onto the new card and all payments you make will pay off the balance of the debt with no interest payments. The interest free period usually last for around 18 to 24 months. So towards the end of this period, you can then apply again for another 0% interest card and switch the balance to a new 0% card.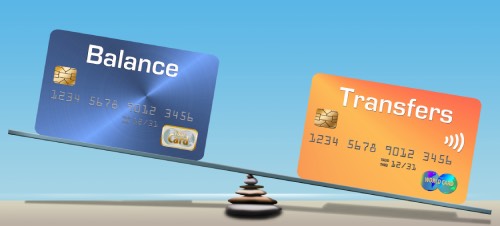 If you paid £200 (2.5% of balance) a month off like this it would take 40 months (3 years 4 months) to clear your £8,000 debt, meaning your debt will be paid off almost 29 years and 3 months earlier!
A warning though, these cards usually have higher interest rates when you come out of the 0% interest period, so you would need to be diligent and A) organise a new balance transfer card in time for the current one to out and B) cut up the card that's just had its 0% period ended. The temptation to use it when you are struggling may be too much and you'll be back to square one.
Make financial cutbacks and pay more off per month.
Can you make any cutbacks on your monthly spending? Do you have a Gym membership you rarely use? You could take up exercising at home instead and/or take up jogging. You could be saving £30+ a month
Do you have Sky TV, Netflix, prime and other streaming services? Do you have music subscriptions you could cancel?  This could add up to £100 a month.
Can you make cutbacks with your weekly shopping? Take a look at how much food you throw out a week in your compost bin, I bet its quite a lot. With a bit more planning that could be significantly less saving a fair amount of money on food. Can you switch to own brands or shop at a cheaper supermarket like lidl if your currently using one of the more expensive supermarkets? Savings could easily add up to more than £100 a month.
More Money saving tips…
Stop eating out, getting takeaways, buying coffee whilst out. According to research, the average Briton spends £641 a year on takeaways, that's £53.41 a month. You can easily cook cheaper meals at home, make your own flask of coffee, packet lunch etc…
How far away do you work? Can you use a bike to get there instead of the car? I realise it's not practical for a lot of people but if you're in cycling distance to work its worth considering, along with the health benefits it can save you a decent amount of money on fuel and less wear and tear on your vehicle's parts, meaning less garage bills per year.
So let's say you manage to use some of the above and have an extra £150 to put towards your card bill at the end of the month, paying £350 a month, instead of the £200 minimum. The £8000 debt will be paid off in 29 months (2 years 5 months) and cost £1987.42 in interest.
This means you'll pay it off 30 and a half years earlier and save £8458.58 in interest! But if you also combine this method with the 0% transfer method discussed above it will be paid off in just under 23 months and save £10446 in interest!
Summary
Whatever option you choose above, they are all significantly quicker than using the minimum payment, all of them pay off the card at least 25 years quicker and save £1000's in interest. If you keep paying the minimum payment you are prolonging the debt and subjecting yourself to £1000's of unnecesary interest. For your own personal amount of credit card debt, you can take a look at barclays card repayment calulator here Simply put your balance and interest rate in the boxes and use the drop down box in the "each month i pay" and select "minimum payment" i think you're going to be pretty shocked!

Andrew Stanley
Managing Director
Andrew Stanley has worked in the finance industry for over 10 years running loan brokering companies. After seeing so many people struggling with debt, decided to Start Debt Lifeline to help people get out of debt as quickly as possible.
Fastest way out of credit card debt: Practical Tips and Strategies Introduction: Credit card debt can feel like a financial anchor, dragging you down with high-interest rates and mounting bills. The good news is that you don't have to be stuck in this cycle forever....